Over the last couple of weeks we have discussed premiums that apply to such things as Month to Month Leases and Short Term Leases. Today we take a similar angle in the Apartment Budgeting Series as we are penning on the subject of Corporate Rent Premium. In the spirit of consistency, we will start by putting some definition around the term and then we will dig into some budget strategy and possibly some thoughts on marketing.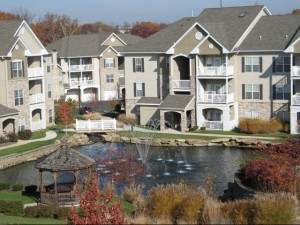 Corporate Rent Premium Defined
Corporate Rent Premiums are convenience fees added to your Apartment's Market Rent. It is a little bit different from the last two fees that we penned about. In this case,  apartments are generally leased and paid for by third-party agencies.  National Corporate Housing and Oakwood are a few examples of the aforementioned third parties. You, in a sense, up charge the agency for the convenience of getting out of the lease(s) with just a standard 30 or 60 day notice.
I have seen the fee applied by way of flat rates and/or percentages with upsides of $300 or 10% of the market rate.
Corporate Rent Premium Budget Strategy
Like all other rent premiums this can be a tricky thing to budget for and it definitely something you want to control. To budget, I would refer to a twelve month trailing all the while considering current economic conditions. If the economy as a whole is downtrodden that the likely hood of a boom of corporate leases landing in your lap is between nil and none. If the economy is gaining traction and or booming you will likely see this business experience an uptick. But, it is always open-ended.
Remember to control this. I can't tell you how many times I have sat in an owner's meeting trying to remind them of their generosity in giving up 20% of their unit count to a corporate housing provider only to have that provider pull the rug out from under them. How quickly it becomes the other's guys hot potato to deal with and explain. 5% is a good number to manage. 10% is pushing the risk handle. Anything beyond that is pure gamble in my book.
Corporate Housing Marketing Strategy
No ballyhoo with this one. It's a simple down to earth Dale Carnegie approach to getting your foot in the door. Do a little research and find out what the owners and account executives grapple with. What are the biggest problems that they deal with? What keeps them up at night? What rattles their brain(s)? Get into that in the way of solutions. Solutions that you can play into their real-time business transactions and make sure your company and community are associated in some way. Be swift with any help that you can give to them. And, don't be shy about asking for the business.
Your always looking for some premium to rent multifamily maniac,
M