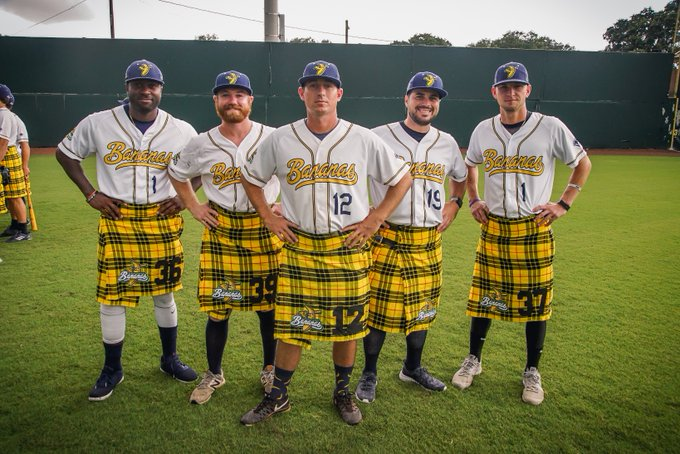 Photo Credit: Savannah Bananas Twitter
That's Bananas!
Bananas are a very versatile fruit – a good source of potassium, magnesium, and vitamins B6 and C – and are consumed plain, in recipes, and as an ingredient in many a smoothie. Did you know that bananas are berries, but blackberries, mulberries, and raspberries are not? This article published by McGill University in Canada explains this fact in much greater detail. But suffice to say that things can be radically different than what we believe. We get so attached to the truth as we know that it can be incredibly difficult to allow our brains to embrace a different reality.
Jesse Cole figured out how to crack the code. In 2016, the Savannah Bananas took to the field. A minor league baseball team, the Bananas understand that baseball isn't just about the fundamentals and stats – it's about entertainment. And boy oh boy – this is a team that knows how to entertain! They sing, dance, and sell out every game and win more games than any other team in their league. Their mascot is a muscle-bound banana named Split. Of course.
Part PT Barnum, part Harlem Globetrotters and part like nothing you've ever seen – the Bananas are a winning combination – and the peeling – er feeling, is contagious. The players aren't afraid to look foolish, they lean into the tomfoolery and as a result, their fans lean into it too – hard. Banana babies, Bachelor parodies, playing in kilts, and stands full of banana everything – including underwear as outerwear. Bottom line – everything is about creating an exceptional over the top entertainment experience for the fans.
Sounds crazy, right? Maybe. Maybe not. Jesse Cole has authored two books: Fans First and Find Your Yellow Tux. How might we in the multifamily business radically change the resident experience if we learned the fundamentals of entertainment and implemented those principles in our business? It's not so far-fetched as it seems. I have long believed that what we do is performance-based in that we opened the theatre of property management every day, but this is lightyears beyond clean, safe, and friendly.
If Cole could figure out how to take talented baseball players and convince them to go all-in on the spectacle and the game, I have to believe that we can bring a fan-first entertainment-focused resident and prospect experience to the multifamily space. We just need to be willing to think about the customer and team member experience in a radically unexpected way.
What might that look like? It's gonna take courage, grit, and the ability to risk looking silly. It seems to me that this radical shift is about creating a feeling – a memorable experience that leaves our customers feeling 'something extra' about living at our properties – more than service and bigger than pleasant – it requires the creation of a full-on profound experience. The kind of experience that fills up your social media feed with resident and guest accolades because it is just that incredible. Shockingly cool.
The question isn't when this type of experience is coming to multifamily – it's WHO is going to do it first.
Please share your theatrical resident entertainment stories with the members of the Multifamily Collective! The thought is pretty a-peeling.
Never miss another Multifamily Collective moment. Sign up to Catch the Weekly Rundown to see all our weekly content plus bonus material for our subscribers. It's FREE, easy, and we promise not to spam your inbox!