My current lease ends at the end of September, so I spent the last month doing the usual research: searching Craigslist, calling apartment management companies to inquire about their current availability and driving through the area where I want to live looking for For Rent signs.
The main issue with my search is that my criteria were very narrow: I was looking for a 2nd floor in a specific area with a small price range to work with. Because of this, there weren't too many options, ultimately leading me to Red Brick Management, the management company that owns/manages a large chunk of the real estate in my neighborhood.
Being that I work in the apartment management industry and have rented more than a few apartments in my day, I have certain expectations about how I think the leasing process should run.
1. Friendly and Welcoming:
It's not that they weren't, it's just the first time I can remember not being walked through an apartment with a member from the office, which I find to be somewhat unfriendly and impersonal. Given the choice, I'd prefer to be given a tour, not just an address and a set of keys.
2. Professional and courteous:
Instead of a tour through their available apartments, I got a set of keys, signed a waiver stating I would not damage anything in the apartment, that I would be responsible for locking the door behind me and that I would be back before they close. Shouldn't I be getting the paycheck…I mean didn't I do all the work?
3. Timely
I will say they were timely with my application process. In fact, they were very timely, running my application and approving me before I ever even submitted my income verification. On the other hand, on my "tour", there were 3 or 4 maintenance repairs not yet completed with little post-it notes next to them that read: "This will be completed." Since I already paid all my move-in fees, all I can do is hope that the maintenance will be as timely as the application process.
4. Smooth and Easy
From the first phone call or e-mail to the lease signing, the process should be 100% easy for the prospect. I think it is easy to fall short on this, as there are many steps to the leasing process and prospects have lives outside of leasing and have to fit within "normal office hours" when getting things done (unless the whole process can be done online). Red Brick is open on Saturday, which is convenient. They also allow credit card payments for application fees and deposits and their application is very simple, only taking a couple minutes. Overall, the application process went pretty smoothly and was very easy for me.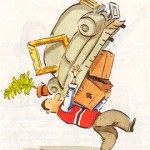 Now I'm not through the whole leasing process yet, and they did mention to me that they only allow lease signings a couple days a week (neither of which is Saturday), and that is not convenient.
I think the takeaway here is ultimately quality customer service. In my case, there weren't a lot of options, but we all know that's not usually the case. How the prospects feel treated and how easy we make the process for them is usually what makes or breaks a lease.
If this had been your experience, would you have rented?