Writing Tip for Apartment Bloggers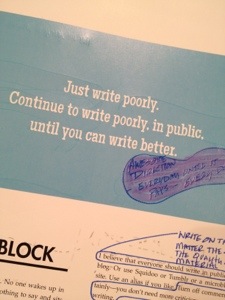 Are your spelling and grammar skills on the downside of good? Do you struggle with the use of its, it's, affect, effect and other words?
Guess what Apartment Bloggers
Your not alone.
Not to long ago I had a conversation with someone about this apartment blog.
They told me that they read nearly every post. I thanked them and asked why they did not chime in with a comment from time to time as I admired their contributions in the property managment field.
Well you see I am not real good with words. I retorted – are you kidding me – have you really read my stuff? It's ripe with bad editing. Missed grammar, spelling and inane mistakes born out of a rush to deliver.
Back in the day – I really fretted over it. Today I file it under the remark in the pic above.
Every article that I post is as much about my desire to be a better writer, thinker and doer as it is about displacing some value on the industry I love.
Want to be a Better Apartment Blogger?
Get busy writing, publishing, commenting, correcting and doing it all over again the next day.
Your getting sharper every day that I take the time to write Multifamily Maniac,
M
About
Mike Brewer
My mission is to tease out the human potential in the multifamily space.