The biggest mistake we see companies make when they first hit Twitter is to think about it as a channel to push out information. – Tim O'Reilly & Sarah Milstein – The Twitter Book
For those veterans out there in the media space this seems like a no brain-er but in a world steeped in tradition, it seems like the right thing to do. Take a new medium, insert old practices and principles and voila, we experience success. Except that we don't.
Apartment Twitter Marketing in Saint Louis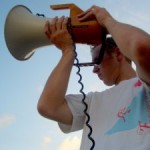 Just this week, I followed up some new #STL Twitter handles [new apartment deliveries in the city proper]. I will admit, I was very encouraged to see their use of the medium included push marketing. Special after special, floor plan after floor plan, us – us – us & look at me copy – it all makes me smile inside.
It makes me smile because I don't think it's what those who use the space expect or even want to see. In other words, it's a big turn off and at best it's ignored and left to rot in a digital dump-ground way off over there in the dark 'Cloud.'
Not that we at Mills Properties have it all figured out and are knocking it out of the park as a result. That being said, we do seem to experience a ton of participation from the people that work with and for us, the people that they serve in our some fifty properties in the Saint Louis Apartment Market and our coaches and mentors in the multifamily industry. All by using just the opposite approach and all for which we are immensely thankful. We keep experimenting, failing, learning, tweaking, experimenting & thanking those who give us feedback along the way.
Push Marketing on Twitter
Back to the point at hand; is there a time and place where this works? Have we reached that point or are we approaching a time where the masses that frequent Twitter, Facebook and the like expect, heck even desire to see some push marketing for goods and services?