#Apartmentmarketing: Attention Economy
Instead of one-way interruption, Web marketing is about delivering useful content at just the precise moment that a buyer needs it. – David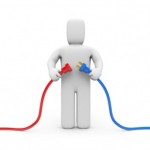 Meerman Scott
Seth Godin quipped that engagement is hitting people with the right message at the right time so as to have them take action [engage]. I think we have to take that word engage and thus precise moment further. To truly engage, at least in my head, you have to be enchanted, you have to be moved, you have to yearn for more so much so that you have no choice but to act on your desires. It the deepest throes of emotion. Words like love, anger and the many nuances of each come to mind. It's not just a like, unlike, +1 or the such. It's deeper.
Mr. Apartment Manager Man; "I am done."
It's not unlike the gentleman I met with last Friday evening. He, unfortunately, was moving out of our Central West End Community. Reason? In his words, "I am done."
You see about three weeks ago, the entire roof of his five story building blew off and landed in the parking lot beside and the street in front. Thank the one that governs it all that no one was hurt as it could have been really bad.
In response to the situation; our team entered every apartment in the building and place plastic over beds, electronics and the such. Most were thankful. Not the gentleman I met on Friday. His beef? We did not leave him a note to let him know we had been in his apartment.
Engage
Somewhere in the wake of the roof being pulled off the building by straight lined winds; his attention got engaged. The premise aside; he was moved by an aggressive deep seated emotion. He engaged with some ill language and barbed personal remarks for the onsite team and the rest of our Mills management team. He got so engaged that he ended up leaving the property.
The Point
I think we are headed toward true engagement – we are not there yet. We use the word but in it's loosest of senses. We are in the early innings of a very long ball game that is frankly destined for infinite extra innings. Think in terms of singularity. Think in terms of love, hate and other extremes. That's engagement. For now we are just courting. Or, at best out on a blind date and liking our mate because our friends suggested we should. Now it's up to us and the million other people out there participating with brands to fall in love or fall in hate.
What do you think?
Photo tip to: Online Ninja Blog
About
Mike Brewer
My mission is to tease out the human potential in the multifamily space.