Apartment Marketing: Rooftop Advertising with a Twist
A couple weeks ago I had an owner bring up the idea of roof top advertising in exchange for a much need roof repair. The property in question is a vintage sixties with many of the original mechanical systems still in place. That is to include a roof that has more than maxed out it's useful life. It's a capital intensive site given it's age and lack of any major rehab over the years.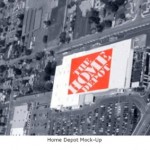 We squeezed one roof into the 2011 budget but now that it has come time to consider doing it; we have to get creative. Enter the idea. The property sits right in the path of outbound flights from the Saint Louis airport. That being the case;  the owner suggested approaching big box retailers and or anyone else that would have an interest in sponsoring, in a sense, the roof replacement.
I'm certain it's not a novel idea but it was novel to me in the sense of the trade exchange element. It goes beyond the traditional banner on rooftops that front busy arteries all over america. The type we purchase to push our lifestyle, specials and or availability. If done well, it could take a huge chunk of capital expense right out of our budget.
Cool or Cheesy?
About
Mike Brewer
My mission is to tease out the human potential in the multifamily space.