Is Social Media Making You Tired?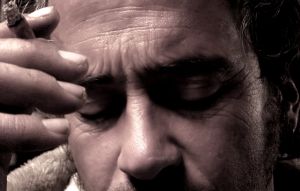 I received the following message on 4.20.9 from a person I would consider a treasured mentor in my life;
Subject: So I'm worried about you
I would like you to read "The Mindful Brain" by a guy named Siegel.  I think you are dis-attuning yourself to a deeper level of awareness and consciousness with this twitter/30 second thought process/Facebook life.  These are cruise ship recipes, not intimate meals where the provenance of your food is known.  This must seem so contrary on my part to say and I surmise you think your are enjoying the height of a social media experience.  Maybe so but I say this only with concern for you.  Take stock, my friend, and when you do be sure you still have long walks and ample period for reflection.  If you can do that and do this, more power to you. [End]
My instant reaction – thank the one that governs all that is and ever will be as I have never been so tired at any span of my professional career.  Up at 5:00 and down at 1:00 or 2:00 every day of the week. The culprit? Social Media coupled with an addictive personality.
With some irony, the message above came to me two years to the day that I left Equity Residential. Sign? – Maybe a little far reaching but it quickly took my mind to two songs that stir my being every time that I hear them;
Down in a hole – Alice in Chains
Comfortably Numb – Pink Floyd
I have long considered myself a mindful person – one who takes the time to be thoughtful of the world around me. One who cares about the origin of stuff and things and the deeper thoughts and feelings of people. That is until two years ago when I put work and social media before family and just two days ago I was heavily reminded of it. Until that time I've been down in a hole and comfortably numb – Tired. Dis-attuned as my friend so eloquently put it.
All that being said, I am under no illusion that I will walk away from the cherished relationships I've developed by participating during the height of social media – I will however, with no doubt, be more mindful of the time I spend participating.
And, to my friend, thank you for being mindful of my being. I will be taking stock.
To all, thank you in advance for allowing an occasional off topic message.
Have a mindful rest of the week.
M
About
Mike Brewer
My mission is to tease out the human potential in the multifamily space.